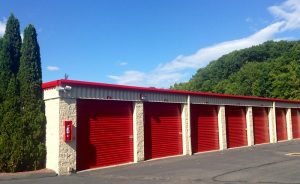 If you run a business in this day and age, chances are you need to store some items. Depending on the size, type, and location of your business, the items could be anything from a notebook, laptop or files to equipment and boxes of inventory. For most budding companies, storage in an expected issue to deal with, and this problem only gets worse over time. If you run a business that needs extra space, renting a self-storage unit is one of the best solutions. However, as with anything in this world, it can lead to some concerns, and that's why in this read, we are going to look at the pros and cons of renting self-storage units for business purposes as well as important things to consider.
The Pros of Self Storage for Business
There's a wide array of self-storage benefits that are worth considering if you are looking for a solution that will help free space in your daily operations:
1. Size Options Variety
Perhaps variety is the biggest self-storage selling point. Every storage facility, such as Blue Box Storage, will have a wide array of storage units that come in all shapes and sizes. As such, you'll be able to find an option that suits your business the best. Most, if not all, self-storage facilities offer units ranging from locker size to that of a double garage.
2. Security
Another appealing benefit is that self-storage facilities have their own, usually top of the line, security features, and so you can always be certain that your stuff will be safe from theft and harm. From CCTV and controlled access to controlled access and unique locks, you can pick your self-storage centre depending on the kind of security you need.
3. Easy Access
If you need prompt, easy and round the clock access to your items, self-storage is an ideal solution if you don't have space in your business premises. Most self-storage centres will allow you inside with a key or entry code. 24-hour access is excellent for when you need quick access to your stuff even after business hours.
4. Flexibility
Self-storage solutions are made to be as flexible as the client needs them to be. So, if you are on a search for a temporary storage solution for your business, this is an excellent solution. Most self-storage contracts are done on a weekly basis. In addition, you can leave with almost no notice and stay as long as you wish.
The Cons of Self Storage for Business
1. Not Everything Can be Stored
Most storage centres do not allow people to keep everything they wish in the units. For instance, you are not allowed to keep unregistered cars, perishables, chemicals, plants, live animals, weapons and hazardous materials. This might not be an issue for your business, but if you are looking to store any item in any of these categories, you may want to look for another solution.
2. Items Can Be Hard to Find
If organizing is a problem, you will find it hard to find items you need in your storage unit. Self-storage units are just four walls, a floor and a ceiling. There are no racking solutions, and so you need to label everything and store appropriately for easier finding. This might help you at the start, but you might soon find yourself struggling to find an important item, especially during urgency.
3. Expense
Renting a self-storage unit comes with a cost, and while it's not significant, you might find it hard to justify down the line. Also, the bigger the space you require, the higher the expense. However, if the cost of renting an extra office is higher, self-storage is without a doubt an effective solution.