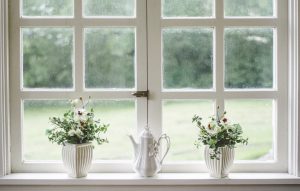 Covid-19 is probably the only thing that you are hearing about all the time. This virus, classified as a "pandemic" has resulted in lockdowns around the world in efforts to try and contain it. It has also resulted in school closures, along with other measures which include economic. Even though there is no indication when the virus will end in the UK, we believe that this should not stop you when it comes to planning home improvements that you have been putting off for ages. We feel that the UK is going to get through the crisis, similar to the financial crisis we faced in 2008. In this post, we will cover various ways to get the process started by improving energy efficiency in your home by choosing double-glazing products. We will also give you more information on installers that can still assist you during these uncertain and stressful times.
Online Quotes
Many of the companies that offer double glazing products are now offering online quoting tools. This allows you to input your specifications to view a visual representation online of how your doors and windows would look. This is a process that assists with speeding up your quote since you have already "built" your doors or windows, allowing the installer to provide you with an approximate estimate. This would usually result in the company calling you to schedule an appointment to come out and do your measurements. However, due to what is currently going on with the Coronavirus, booking appointments and allowing people to come into your home would probably be something most people want to avoid.
Measurements
To avoid having an installer visit your home for your measurements, you can do these measurements on your own. We recommend taking all the measurements that you can before you send it to the company you have decided on. We suggest measuring: First, take the 3 main measurements (of the width) from the bottom, middle, and top. Measure from the window jambs rather than your existing frames. The measurement that is the smallest of all 3, is the 1 you should provide to the company you have chosen. Here is what we suggest for measuring doors: To measure the width, measure your door from "brick to brick", at three different points. This includes the bottom, middle, and top from the opening. Like the window measurements, use the smallest measurement as your width. To measure the height, measure from "brick to brick" again, at the right, middle, and left from the opening. The smallest measurement is the height measurement you should be using. Once you have supplied these measurements the double glazing company can refine your quote. If you are not feeling confident about the way you have measured your windows or doors, contact the installer and they will be happy to give you advice over the phone.
Financing Options
As we mentioned before, there are various ways to pay for double glazing products. One of these includes financing packages. Many of our installers within our network provide some form of financing. This makes sense since a one-time purchase of this product is usually expensive for many homeowners. This is why many double glazing companies offer the option to spread these costs over a few months or a year. If the double glazing company does not have financing options available on their website, we still suggest calling them to ask. Given the uncertain times, we are in, it is probably in your best interests to contact them to find out if they are willing to offer a financing arrangement. This allows you to spread out your costs, which reduces the upfront risks, providing you with more flexibility while we face these challenging and uncertain times.