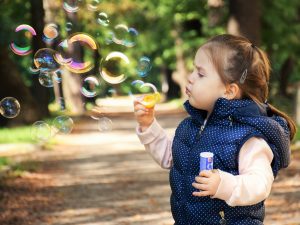 Maybe you've been considering starting a career as a nanny but have been wondering whether it is really worth it. Even though nannies are prone to hectic tantrum-filled days, they have the opportunity to work one of the most special and unique jobs. Not only do they get to work in an environment that is different from the traditional office setting but the job is also much more rewarding in comparison.
If you are not yet convinced, here are five compelling reasons why being a nanny is an amazing job:
It's not your typical office job
While the traditional office job often involves sitting at your desk all day working on a computer, a nanny's job is filled with energy, fun activities, and plenty of time spent in the outdoors. Unlike an office job, there is no typical day for a nanny – each day is a new day on the job. You are the one who chooses the activities that you and the children you look after will engage in, and most of the day is spent out and about. Additionally, working as a nanny offers more flexibility and freedom over the type of clothing they wear. While most office jobs require you to don professional business clothes, which can be quite uncomfortable, as a nanny, you have the freedom to wear the clothes you are most comfortable in, of course within reason. What's more, nannies still get most of the benefits of working an office job including a good salary, opportunities for qualifications, and career progression, but in a more fun environment. You can also choose to work as a part-time or after-school nanny to gain more control over your work-life balance. This flexibility means you can control your salary, and work it out using nanny payroll services.
You become part of a family
Being a nanny places you in a special position where you get to become part of another family, besides your own. For most families, they can't imagine life without their nanny. They have become an essential part of their daily lives. Some nannies even live with the family they work for. This has led to most nannies creating a lasting bond with their nanny families, particularly the children they care for. This is one of the most special and fulfilling aspects of working as a nanny. As a nanny, you gain a level of trust and recognition that people working an average job could only dream of. Nannies watch children as they grow up and they are present for all their biggest moments, including uttering their first words, catching a ball for the first time, and so on.
It allows you to let out your inner child
A nanny's job involves a lot of things including fun children-oriented activities such as watching cartoons, building lego towers, creating silly dance routines, and many others. Apart from keeping the children entertained, these activities help them to learn and develop. While there are still lots of adult tasks to take on as a nanny, including cleaning and cooking, engaging in these activities allows you to unwind and momentarily forget the struggles of being an adult.
It boosts creativity
It is likely that you have plenty of clever Pinterest boards that never come to existence. However, you can put all these ideas into good use when working as a nanny. They will help you to come up with fun activities for the children. Given that each day is a different day at work, being creative when planning activities is important. You will rarely be bored on the job as you are presented with unique challenges that require your creativity.
You become someone's hero
Considering the amount of time nannies spend with the children they care for, it is just natural they eventually become an important part of their lives creating unique bonds. Nannies are great multitaskers, have a lot of patience, and masters of fun. Essentially, they serve as a role model to the children, who will often copy and follow the nanny. While this might feel like too much of a responsibility, nothing can match the feeling of hearing 'I love you' from the little ones. While you might personally feel like you aren't doing much of a good job, remember that you are still a hero in their eyes.