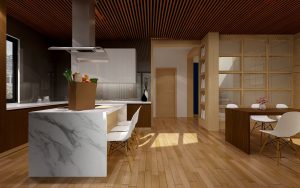 With a wide array of marble varieties around the globe, narrowing down to the best stone for your kitchen is no walk in the park. All kitchens and lifestyles are different and so, what may be the best stone for one kitchen's countertop may not be ideal for another. In this read, from quartz worktops Surrey, we are going to break down the different marbles for varying kitchen types, with the aim of helping you pick the best one.
1. Large Kitchen
If you have a huge kitchen with a bright space, then you have a lot of freedom in picking the colour of your marble. Key considerations for such a space is patterning and veining. Since marble is mined as slabs, you'll need to pick a variety, which comes in longer slabs and thus avoiding unnecessary joins. Also, it is important to consider how the patterns will be joined at the seals. The dark varieties often have a more regular patterning, so look into Breccia or Nero marbles.
2. Small Kitchen
If you have a small kitchen, you'll want to keep it light. This will leverage natural light, and give the illusion of a bigger space. Also, corners will be more obvious are they're in closer proximity to each other in a small kitchen. So, consider veined marble varieties such as Delicato and Calacatta as they can be mirrored at the corner joins, lending a splash of the artistic beauty.
3. Family Kitchen
If you have a lot of family members and the kitchen is always busy, then you need a countertop to match. Marble is hard-wearing when sealed and can handle a lot of activity. However, acidic spills such as vinegar and lemon can leave a white-ish mark. So for a family kitchen, particularly those where children are learning to cook, you'll want to go for the whiter hues as they will make accidents way less visible. Some of the best options here include Carraras and Arabescatos.
4. Social Kitchen
If the kitchen is an entertainment hub, you will want to go for a marble countertop ideal for those afterschool playdates and dinners. Warm hues are excellent here and so, stick to greys and creams. You can rely on Dove Nuvolato to soften the room while Botticino varieties lend a gentle and welcoming look and feel.
5. Statement Kitchen
If you have a statement kitchen, you can't go wrong with marble, given the numerous dramatic options available out there. Depending on how the stone is cut, you can go for a swirling movement wave or a single huge streak of veining. Both will be excellent for a statement kitchen.
The Finishing Touches
Marble isn't the only factor in how it sits in a kitchen. You'll also need to decide on the edging and finish. These features can substantially change the look of a marble worktop and so it is important to take your time. Depending on the range that you narrow down to, you can pick a textured, matt or gloss finish. Go for round edging as it helps avoid any marble chipping.
Marble Countertop Care Tips
Once you have picked the best marble for your kitchen worktop, it is imperative to take care of it. Fortunately, marble calls for little to no maintenance and once it is sealed, the stone's natural porosity is protected. All you need is regular resealing and the day-to-day care of the worktop will be minimal. Simply wipe the spills with warm water and dish soap and that's it!
We are aware that marbles can be very personal. They are appealing and can easily be the focal point of any kitchen. With the tips mentioned above, you are now in a better position to pick the right one for your space. We have a wide array of marble options and if you are uncertain, just give us a call for professional advice.