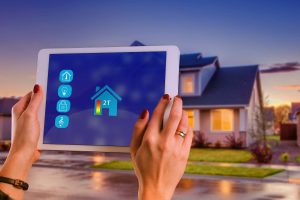 In the modern world, with WIFI For commercial premises or for the home, you can access anything you need with just a few buttons. Well, the same goes for your heating and cooling needs. If you are looking for the best smart heating control systems, here are a few that you should consider.
1. Google Nest Learning Thermostat (Third Generation)
It is one of the most popular smart heating thermostats available today. With more than 2,000 positive reviews, homeowners globally have appreciated the features that come with it. The unit has a sleek and curved design so it's aesthetically pleasing. Even better, it offers a very good range of connectivity with various devices such as Alexa and Google Home. You should be able to control this thermostat directly or remotely. You can also use it to control your hot water. The individual thermostat control provided is not standard, you can buy separate TRVs and fit them to individual radiators to allow temperature control in specific zones. If you are tech-savvy, it's easy enough to have a completely connected home, thanks to Google Nest. The smart system offers entertainment streaming, Nest Cam security cameras, lighting control, key-free Yale Locks and also Nest Protect which is a smoke and carbon monoxide alarm for your home. It costs about £250 and should be a great addition to your home's heating and cooling system.
2. Hive Active Heating 2
Hive is much more than a smart heating system for your home. Just like the Google Nest product, you can also pair this one with other smart devices in your home such as smart plugs, WIFI security cameras and smart bulbs. It is not a self-learning system but it is easy to control since you can control everything under one app, known as the Hive Hub. Note that you can't control it manually. Hive Active Heating has great connectivity. It also comes with geofence that reduces the heat when you leave the house and starts it up again when you are back home. It doesn't have TRVs but you can purchase them separately and turn the Hive Hub into a multi-zone system. It is owned by British Gas but you can use it with any other energy supplier. It costs about £250.
3. Tado Smart Thermostat
It's a relatively new product on the market with numerous interesting features. It comes with an energy-saving calculator, remote and direct adjustability options, geofencing and open window detection. The smart thermostat also has smart radiator thermostats. That way, you can control the temperature in every room in your home to ensure that you get heat exactly where you need it. The Tado Smart Thermostat is unique because of the presence detection feature. It has location features such as GPS so it can track your location and direct the heat to that specific area in your house. You need a paid subscription to access this feature but it's very useful in your home. You should able to buy this smart tech product for £200.
4. Google Nest Thermostat E
It might not be as stylish as the Nest Learning Thermostat but it's easier to install. Also, it is not connected to your boiler. It replaces the existing wall-mounted or wireless thermostat. It does an amazing job when it comes to adjusting your home's temperature but it lacks the functionality available with other types of smart thermostats. It is quite expensive in the UK especially because it goes for the same price as other competitive products (£200) without as many features. If you want a smart thermostat that is easy to use and has excellent connectivity, this is a great choice.